Styled, sustainably by Rachael Wang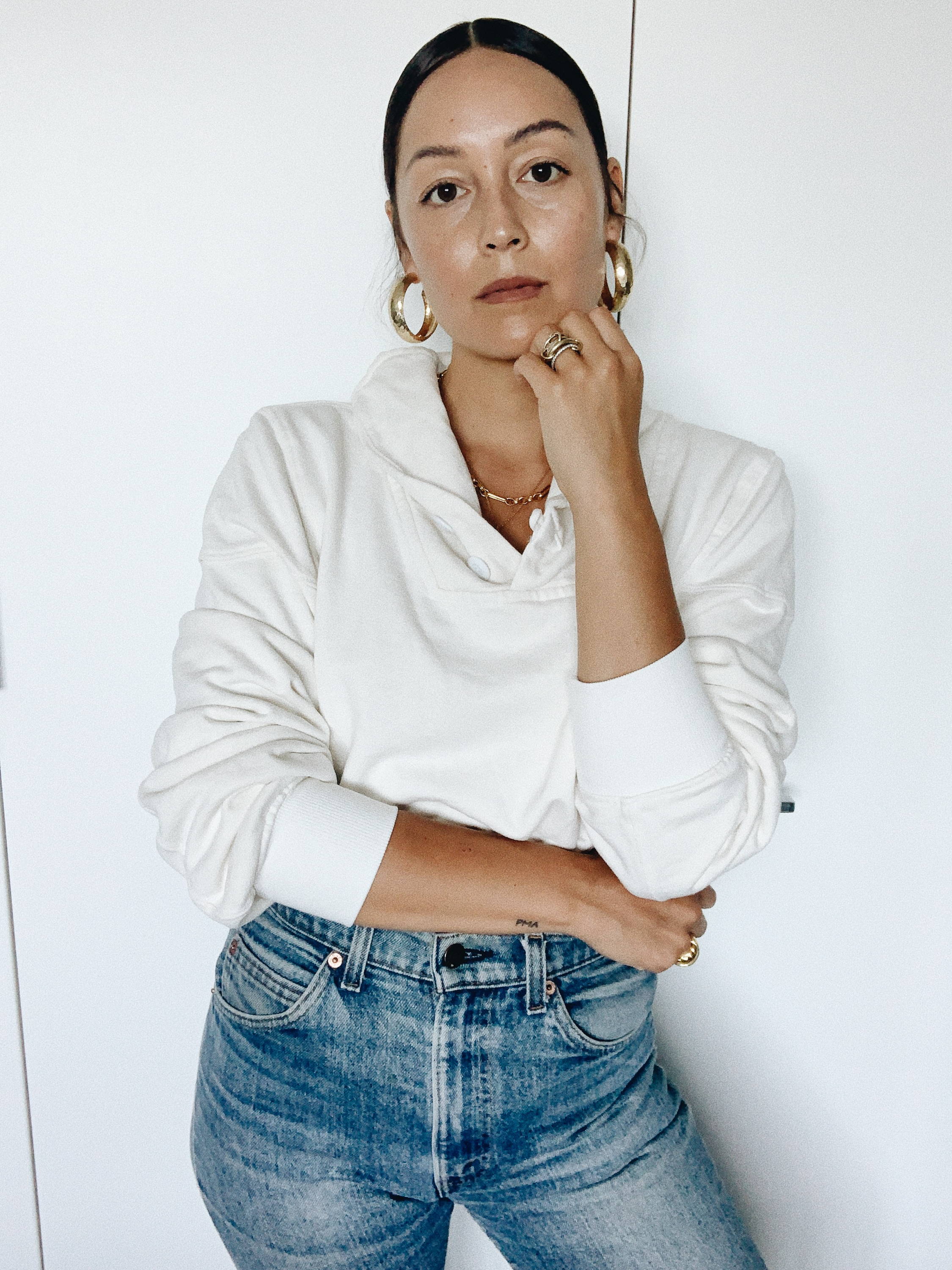 Jungmaven Whittier Sweatshirt in Washed White.
A cultural revolution is blossoming, and fashion will play a key role in what kind of future we create together. We spoke with New York based stylist, creative consultant and early champion of responsible fashion about the fashion industry's role in environmental justice issues, and how our individual choices can make a difference.
JM: Why is it important to you to choose sustainable, responsibly-sourced textiles?
RW: It is irresponsible for folks with socioeconomic advantages to ignore the effects of our consumption habits on the planet and subsequently on the humans who inhabit it. A basic search on environmental racism reveals that BIPOC and low-income communities are disproportionately impacted by toxic waste, pollution and climate change. The fashion industry is one of the major polluting industries in the world and its environmental impact cannot be understated. Consuming in a more thoughtful way which includes the use of sustainable textiles like hemp, is a way to advocate for justice not only for the planet but for vulnerable people as well.
JM: Besides choosing sustainable textiles, what are some other specific ways in which you feel the fashion industry can help amplify the voices of marginalized communities?
RW: There are so many ways the fashion industry can move toward the goal of true racial equity. By hiring BIPOC folks for leadership positions and providing the support they need to implement their vision. By providing sustainable job opportunities and paying fair wages to garment workers, 80% of whom are women, as a means to create upward mobility around the globe. By reversing the design process, considering the end life/disposal of a garment first, in order to inform the most responsible materials and processes by which to design a garment. By deeply researching and funding circular design, design that eliminates waste and pollution altogether, the results of which should be shared openly for all to access and incorporate into their own business models. By consumers harnessing their collective spending power to support BIPOC owned businesses and companies that demonstrate these values as the foundation of their business model. And it goes without saying that we must ask BIPOC directly and often what their needs are and do everything we can to support those needs rather than projecting what we think might be best for them.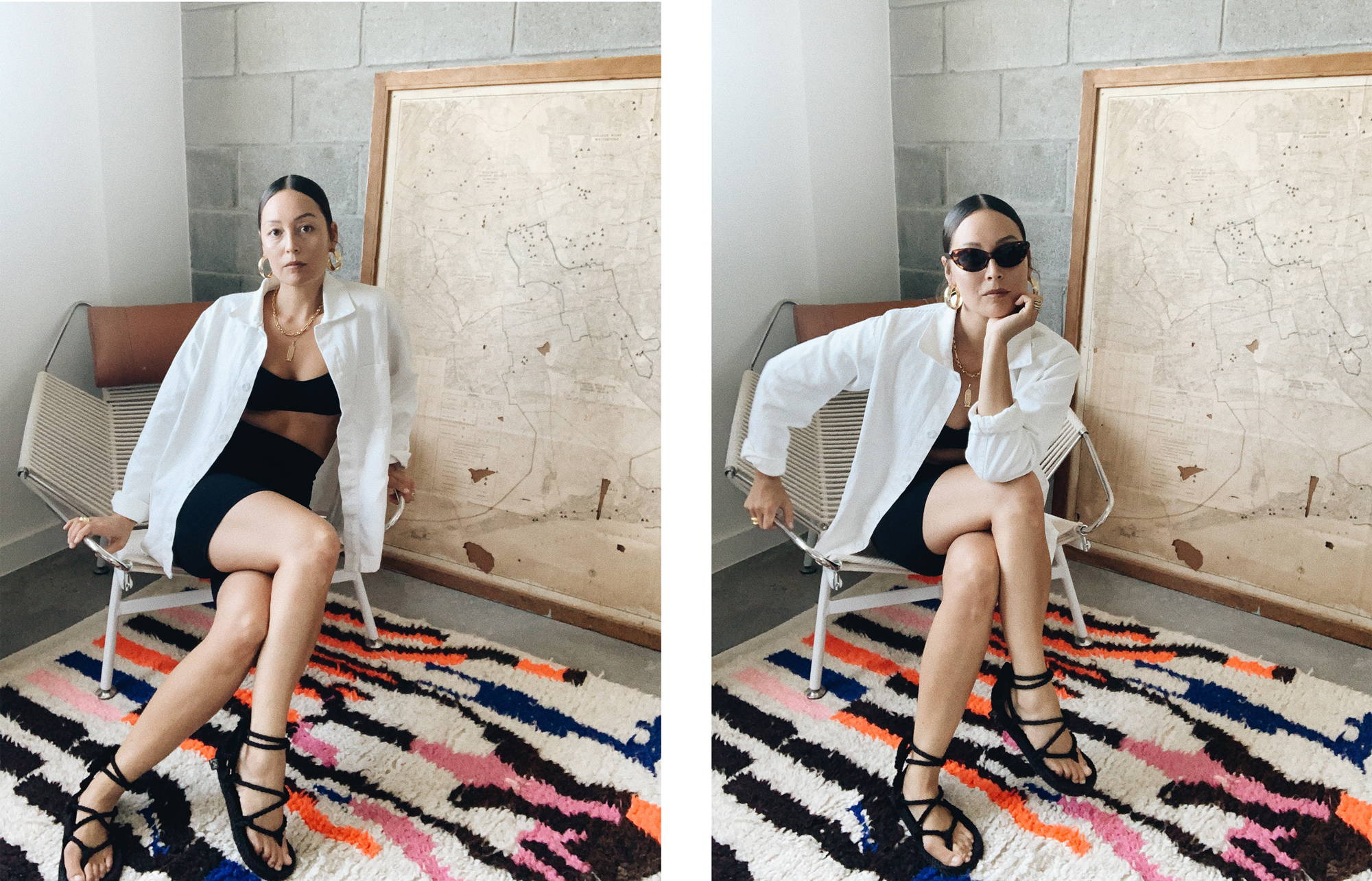 Jungmaven Olympic Jacket in Washed White.
JM: What are you reading, watching and/ or listening to right now?
RW: I'm rereading Audre Lorde's Sister Outsider and Feminism is for Everybody by Bell Hooks to reframe my understanding of power structures and oppression. I just finished The Round House, a heavy but important novel by Native American writer Louise Erdrich. I loved Valentine by first-time novelist Elizabeth Wetmore. I'm flipping around Devotions: The Selected Poems by Mary Oliver as a reminder to worship our fleeting natural world. I reference The New Plant Parent by Darryl Cheng often. I subscribe to Kimberly Rose Drew's Something I Saw . I listen to @janayathefuture's Sunday Sermon on Instagram Live at 12 p.m. PT and How to Meditate by Jeff Warren on the Calm app. I've been playing a lot of Kendrick Lamar Damn, Mac Miller Circles, Zeloopers Dyn-O-Mite, Father John Misty God's Favorite Customer, Courtney Barnett Tell Me How You Really Feel and Khraungbin Con Todo El Mundo. I was very moved by the HBO miniseries I Know This Much is True with Mark Ruffalo.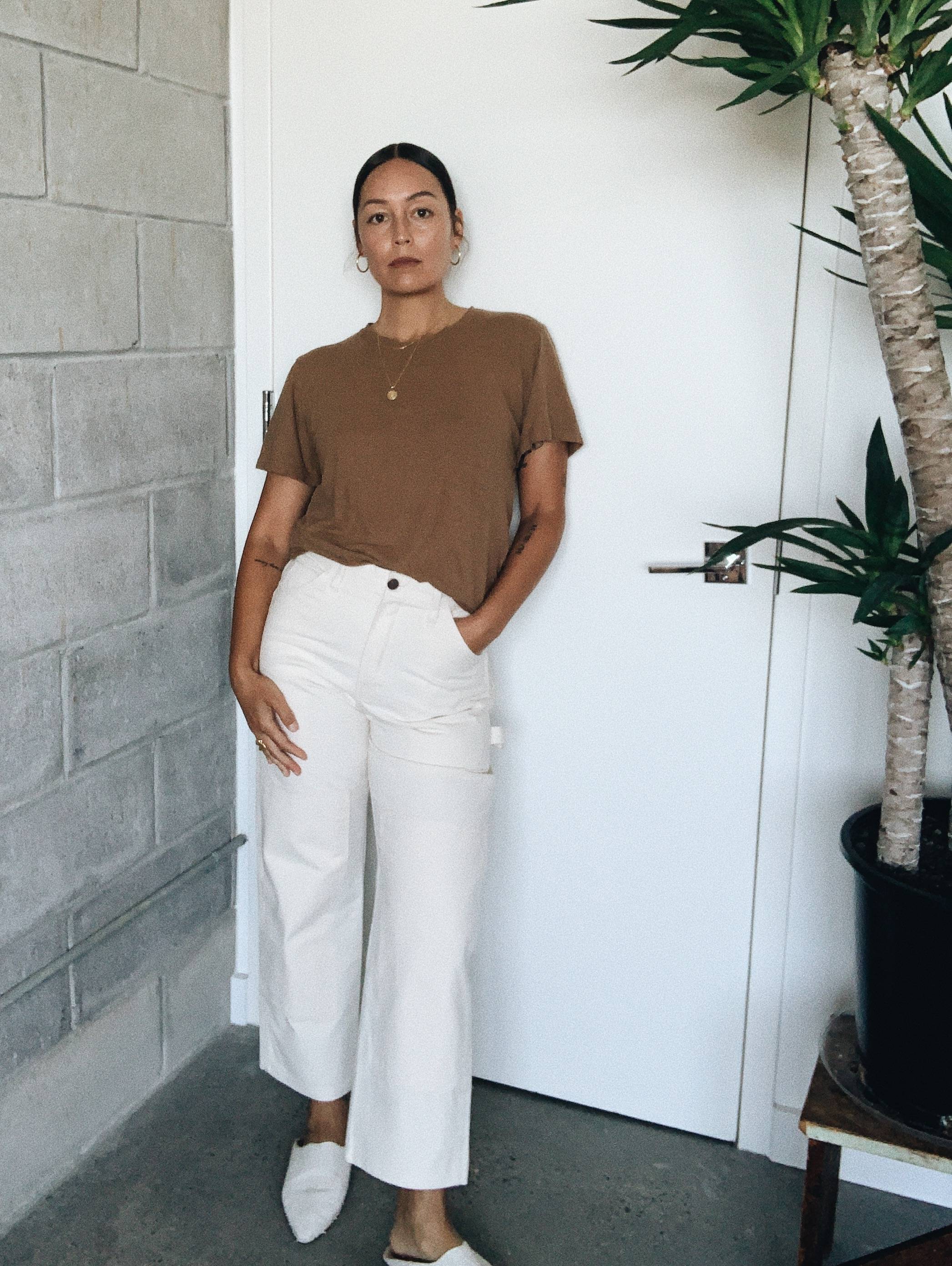 Jungmaven Jung Tee in Coyote.
About Rachael:
Rachael Wang is a New York based stylist and creative consultant. She previously served as Fashion Market Director of Style.com and Fashion Director of Allure and her styling can be seen in inspired editorials for Document Journal, Telegraph, Office and international editions of Numero and Vogue. An early champion of responsible fashion, Rachael continues to focus on bringing ethics and thoughtful representation to creative and fashion direction.
Find her on Instagram @rachaelwangstudio
and online: https://www.rachaelwang.com
---