JUNGMAVEN x MOONSHADOW GOODS - A Match Made on Instagram
Posted on May, 08 2018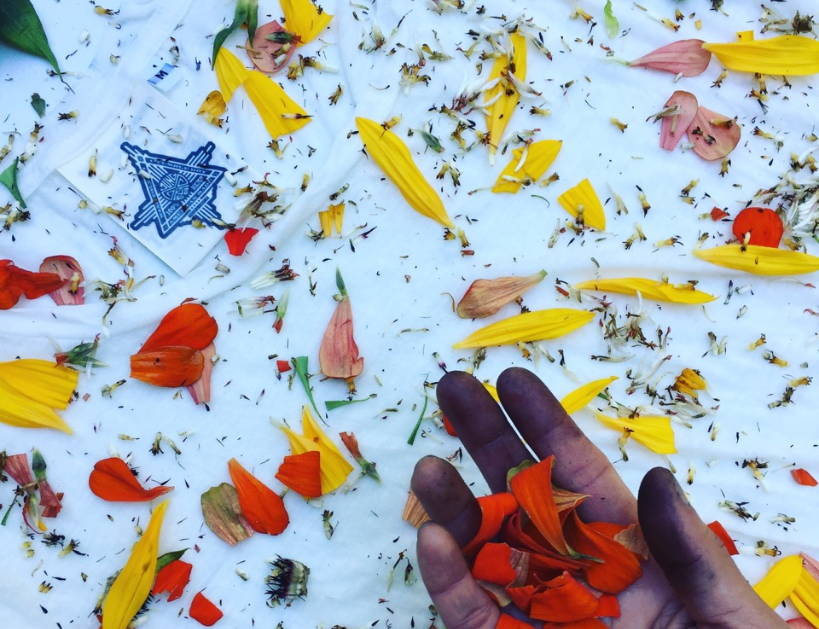 Our founder, Rob Jungmann came across one of our 100% hemp tees transformed into a natural dyed work of art on Instagram. The tee was bundle-dyed by Adriana Moreno of Moonshadow Goods using natural material from her backyard in Portland, Oregon. Within a month we were selling the first edition of the Jungmaven x Moonshadow Goods bundle-dyed hemp tees.
Adriana Moreno of Moonshadow Goods is a textile designer and natural dyer. She works with vintage, organic and sustainably sourced fabrics. We asked her about her natural dyeing process and how she incorporates everything from coffee beans to cannabis leaves into her work.
Jungmaven: Moonshadow Goods is all about sustainability and creativity. Was the brand born by reworking vintage textiles or did something else set you on this path?
Moreno: I knew that I wanted to make pieces that were honest and made with intention. It really started by looking inward, at my own habits, the things that I value, my commitment to minimizing waste. I want to add value to the pieces I make, the opposite of disposable. I am a lover of vintage textiles, denim in particular. I'm always on the look out for textile treasures. So instead of buying new fabrics, my focus was to use what I already had available. When I do have to buy new fabrics, I make sure they are sourced sustainably.
Jungmaven: How did you get started with natural dyes?
Moreno: I'm an avid reader, my nose is always buried in a book. I received a book called The Handbook of Natural Plant Dyes by Sasha Duerr as a gift and so I started experimenting with my local plants. With natural dyes, it's very much about being in tune with the seasons. I have a deep respect for nature and I'm constantly inspired by it. I get outside as much as possible and pay attention to the environment around me. I gather, I experiment, and I document onto cloth. Each season is full of color opportunity and I'm always amazed by the colors that come out of the dye pot. It's magic.
Jungmaven: What exactly is bundle dyeing, how does it work?
Moreno: Bundle dyeing is a fun and sustainable natural dyeing technique, some folks might know it as eco print. You take your collected materials, i.e. onion skins, avocado skins (and pits), carrot tops, foraged greenery from your back yard, dried or fresh flowers… and you place them onto your fiber (hemp, linen, wool, organic cotton) and roll the whole thing up into a tight bundle, then you can either steam or boil the bundle. I use the steam method. The steam releases the pigment creating permanent color and patterns on to the cloth.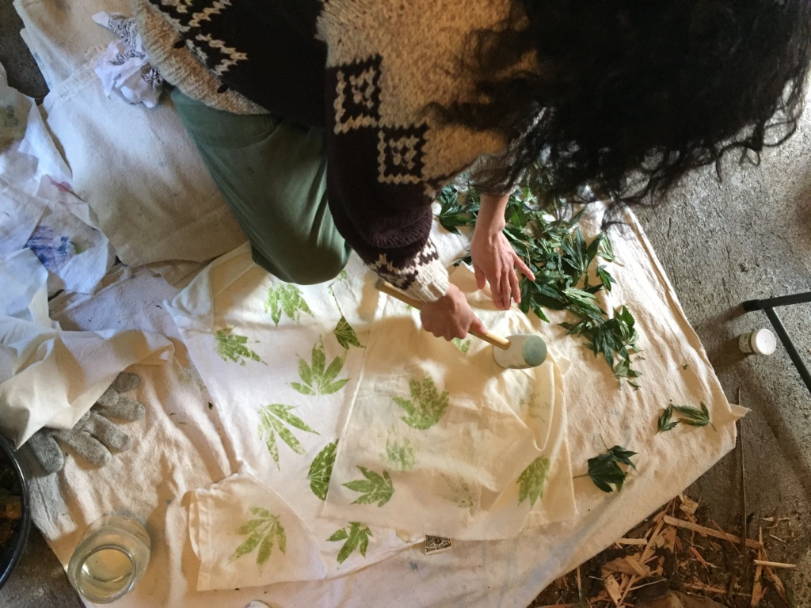 Jungmaven: Do you still experiment with new materials? Any big surprises - good or bad?
Moreno: Oh yes, I'm always curious about what new colors will emerge in the dye pot. I've experimented with all of my backyard plants and trees and my reach has extended to my neighborhood. Ha, I'm that crazy lady digging in your yard debris bin! We grew our own cannabis plant last year and I was so excited to get a chance to add this to my list of dye materials. I saved some of the fan leaves for the dye pot, which produce a beautiful almost neon green color but the big surprise was the cannabis fan leave print I was able to create. So dope! (pun intended). Which is the hemp leaf print for Jungmaven on the 100% hemp tees!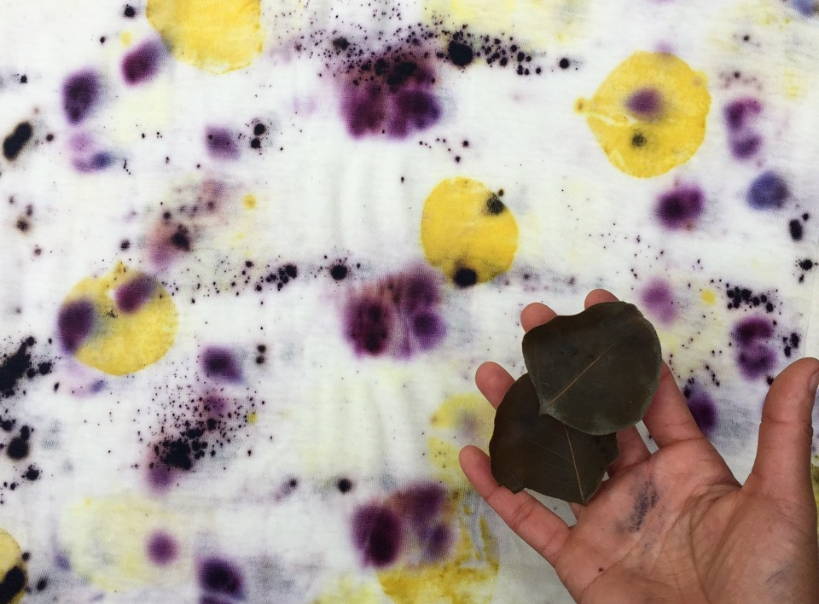 Jungmaven: We love unpacking the tees we get back from you - there are so many cool patterns and colors. What inspires the materials you use for Jungmaven?
Moreno: I use local and seasonal materials on the Jungmaven tees. I love to use materials that are specific to Oregon, like Oregon grape, which is abundant and I have a couple bushes right outside my door. Portland is also know as the Rose City, so I'll sprinkle a handful of fresh or dried rose petals. The camellias in my backyard are blooming right now so I'll use them for the next batch of tees. I also like to combine everyday ingredients: coffee grounds, black beans, espresso beans, turmeric.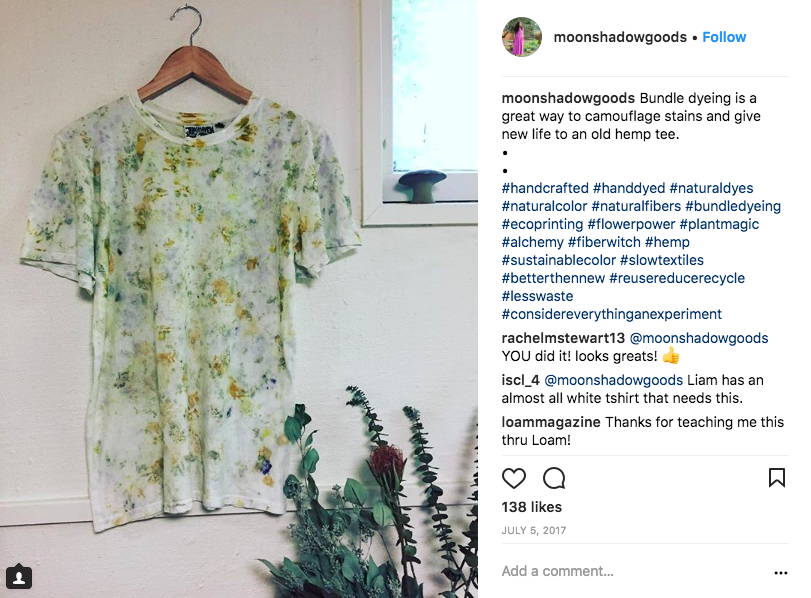 Jungmaven: I heard that Instagram paved the way for you to work with Jungmaven? It seems like that story could inspire some other makers.
Moreno: I held an indigo workshop for a group of friends that wanted to do something creative. Someone brought Jungmaven tees for her friends and gave me the extras – "sweet!" I indigo dyed one and bundle dyed the other.   I posted the bundle dyed shirt on Instagram and tagged @jungmaven. Rob saw the post and sent me more shirts!
Jungmaven: Can you give our readers some pointers if they want to try bundle dyeing on their own?
Moreno: Of course! Start small. I keep small swatches of fabric ready for experiments. You don't have to go far, kitchen scraps are great to start with. Gather a couple onions skins (both yellow and red work great), maybe you have some coffee grounds, or a handful of black beans, sprinkle some turmeric. Walk outside and see if there's anything you can forage: leaves, acorns, bark from a tree, all can go in your small swatch bundle. Gather, experiment, and repeat. If you are in the Portland area, I do Bundle Dye and Natural Dye workshops!
Jungmaven: What are you dying (ha) to try next?
Moreno: Ha, that's funny! I've recently been exploring natural dyes as paint or ink. I experimented with this on the last batch of Jungmaven tees, I made a few with painterly dots. I like using simple organic shapes like dots or circles, or natural dye splatter. I want to continue to explore different techniques and keep learning. Always a student.