Healing Recipes with Sun Potion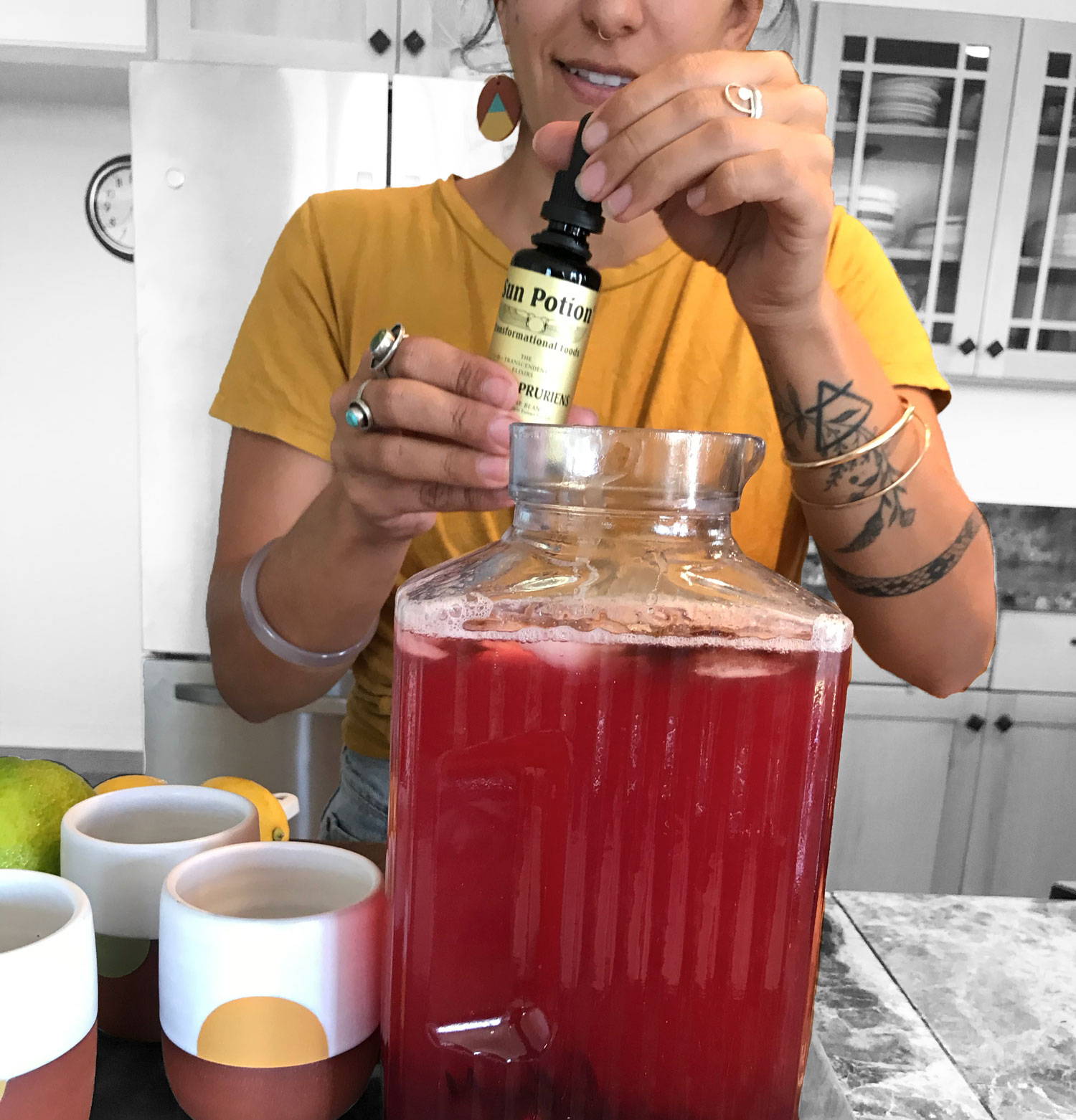 Self care has never been more important. From new Sun Potion Transcendent Elixirs to Anti-Viral Honey, we've stocked up on holistic goodies to make you feel your best.
Adaptogen Coco-Coffee
Ingredients:
12 oz. freshly brewed organic coffee
8 oz. homemade coconut milk (can substitute canned)
1 tsp. Ashwagandha Powder (can substitute the Ashwagandha Elixir for an even smoother result)
1 tsp. Pearl Powder
1-2 dates (optional, for sweetness)
STEPS
Brew coffee using your favorite method; we like using a pour-over technique.
In a separate container, blend or whisk coconut milk, Ashwagandha, and pearl. If using dates for sweetener, you'll want to use a blender until milk is smooth and creamy.
Add coconut milk to coffee, top with cacao powder if desired and enjoy!
This recipe can also be adapted into an iced version, which we often prefer in the tropical island climate. We use cold brew organic coffee, since it has lower acid and is better for digestion. Add ice and shake before service (for a stronger version) or blend for a frappuccino-style.
Makes 2 servings.
Post-Surf Açaí Bowl
2 frozen packets unsweetened Açaí
1 young coconut (or 2 cups store-bought coconut water)
½ tsp. Chlorella
½ tsp. Mucuna Pruriens Powder
½ tsp. Moringa Leaf Powder
1 frozen banana and one ripe (we use local apple-bananas, which are tangy and sweet)
3-4 strawberries
2 T Goji Berries (or to taste)
1 T Bee Pollen
1 T Cacao Nibs, unsweetened
1 T Bioactive Honey
STEPS
Blend açaí, frozen banana and coconut water until smooth. Start with as little liquid as possible and slowly add to desired consistency. Açaí base should be thick and creamy.
Add Chlorella, Mucuna Pruriens and Moringa and blend until just mixed, only a few seconds.
Pour base into bowl and arrange toppings over the base. Get creative! We used what was local and in-season for this version, and encourage you to do the same. A few other fruit topping ideas: fresh mango, blueberries, raspberries, passion fruit, or starfruit.
Sprinkle with coconut flakes, cacao nibs, and goji berries
Drizzle with bioactive honey and
If you want a more filing bowl, add some of your favorite granola and drizzle with a nut butter. Açaí is loaded with antioxidants, and when paired with detoxifying chlorella, mood-boosting Mucuna Pruriens and balancing Moringa the benefits are compounded.
Makes 1-2 servings
SUNSET HIBISCUS CITRUS COOLER
STEPS
Steep dried hibiscus in 2 cups of hot water for about 4 minutes, or until you get a rich crimson color.
Juice citrus in a separate container, and pour into the steeped hibiscus tea.
Add remaining cold or room temperature water and mix well with a large wooden spoon or whisk.
Pour in honey to taste, and whisk until completely dissolved.
Place ice in each glass (adding it to the main container will dilute) and then pour and enjoy!
We used hibiscus dried locally, but you can also get it in most grocery stores. Check the international aisle or bulk tea sections. Don't use hibiscus harvested from the wild unless you know what you are looking for– the varietal used for tea is different from ornamental hibiscus. Hibiscus is loaded with healing power, and can support upper respiratory health while promoting healthy blood circulations. Both very important assets when confined in a small space and fending off coronavirus!
Makes about 9 servings
---